Born and bred in beautiful Byron Bay, macamilk.™ is the passion project of founder, Dan Hart. 

Growing up like many of us, Dan was spoon fed a daily carton of dairy milk, along with plenty of other nasties that we now look back and frown upon. But it wasn't until beyond his teen years when the negative health impacts of dairy were felt first-hand. 

Being a serial entrepreneur, involved in many businesses and spending countless hours working from cafes, Dan's passion for health and coffee was brewing. It was only a matter of time before it frothed up to the surface to become what macamilk.™ is today.

It was in 2014, when Dan relocated from Sydney to a farm in the Byron hinterland, also known as "maca country", that an unshakable idea struck him like a ripe macadamia falling from a tree. He knew that something wasn't right in the dairy industry. He needed to make a difference.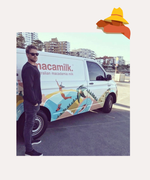 And so the journey began.
Research was underway, a brand was developed and a secret formula was crafted (not quite as easily as that might have sounded).
Specifically developed in  partnership with baristas and nutritionists, the premium macamilk.™ blend that Aussies love today has been formulated to possess the perfect properties for creating delicious cappuccinos, lattes and smoothies.
But this journey is far from over, as macadamia milk fast becomes the non-dairy of choice, and macamilk.™ is continuing to pioneer that movement.
We want you to be apart of it!