macamilk.™ launched in 2016 and is already making waves in coffee culture along Australia's east coast. macamilk.™ was specially developed in partnership with baristas and has been specially formulated to possess the perfect properties for the dairy free cappuccino, latte and smoothie drinker. An all-Australian macadamia milk produced in idyllic Byron Bay, macamilk.™ is for the steadily growing, passionate, health conscience cafe culture that doesn't compromise on taste.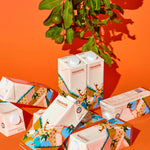 • Australian made and manufactured.


• Doesn't split when heated.

• Performs as well as dairy for latte art.

• Delivers a rich creamy froth to sit atop lattes, cappuccinos and smoothies.

• Good monounsaturated fats in the macadamia nut provides a balanced tasting coffee.

• 9 months shelf life stored at room temperature.
• Unroasted, Vegan, GMO free, Gluten free, Lactose free, Cholesterol free, Dairy free, Casein free, Soy free.


• Super nut providing numerous health benefits as it's a rich source of Vitamin A, Iron, Protein, Thiamin, Ribo Avin, Niacin, and Folates.


• Moderate amounts of Zinc, Copper, Calcium, Phosphorus, Potassium, and Magnesium. Containing Antioxidants like Polyphenols, Amino Acids, Avones, and Selenium.

• Sustainably farmed macadamias
We invest millions of dollars annually in ongoing scientific research towards continually improving all parts of the growing and production process.
Our macadamia growers are committed to clean, green production and the world's best practice farming methods to help create a sustainable future not only for themselves but also for the communities in which they work in. We lead the way in biological control on-farm (using natural methods to manage pests and diseases) and actively encourage our growers to look to organic and alternative solutions in the management of their orchards, including the use of integrated pest management (IPM) to control pests and reduce the use of pesticides.


Our record speaks for itself in this area – for the last 15 years we've received a 100% clean bill of health in the Federal Government's National Residue Survey, which monitors residues of agricultural chemicals and environmental contaminants in Australian food commodities. This record is unmatched by any other Australian fresh product.
On-farm biological control uses natural methods to manage pests and diseases.
Our industry directly invests millions of dollars each year in ongoing improvements across all areas of the growing and production process. This is one of the reasons we lead the way in sustainable horticulture, especially in the use of integrated pest management and biological control.

• The Trichogramma wasp is now used by almost 70% of our farmers, helping to contain loss to nut borer and dramatically reducing the use of chemical sprays over the last decade.

• Native bees are used as a natural pollinator, protecting honey bee populations, which are under threat globally and in turn protecting the industry's long term investment.

• Native barn owls are used to fight off rodents that consume our valuable crops. Many farmers now install nesting boxes in their orchards to encourage the owls to prey on any unwanted pests.

• We're leading a new initiative to develop an environmentally friendly program to control fruit spotting bug - the most damaging pest of sub-tropical horticulture crops. Causing millions of dollars damage each year, it affects a range of horticultural crops from macadamias to avocados and lychees.
Conserving Our Natural Resources
Our macadamia growers are passionate about conserving the water, soil, air, native vegetation and wildlife.


• Regeneration of remnant rainforest on their farms protects the natural topography and waterways of the region, creating a haven for
native animals and beneficial insects as well as improving overall soil health.

• Planting of Richmond Birdwing vines protects the endangered Birdwing Butterfly - the butterfly lays its eggs on the vine and the caterpillars eat it.

• Development and use of Smothergrass, an innovative grass that covers the orchard floor and helps control soil erosion.

• Using 100% of the harvested nut. Nothing is wasted. The husk is used as fertiliser and new uses are constantly being researched, such as biochar for carbon capture and storage.

• The 6 million+ macadamia trees across Australia help reduce CO2 in the atmosphere 24 hours a day, 365 days a year.